Contract Sales Information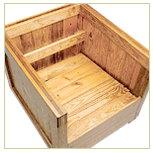 All seating pieces have a solid wood frame that provides maximum support and stability. Our 3-ply side and back panel construction is bonded in a hydraulic press to ensure superior strength and durability.
Cushions have zippered covers and are affordable and easy to replace. Durable commercial grade fabrics and foam, certified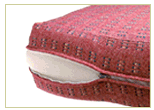 tomeet Cal. T.B. 117 and Cal. T.B. 133 fire codes, are available. Fluid, spill and stain resistant fabrics and vinyls are also avaailable.

Our durable dining and study tables have a trestle or stem base construction for maximum seating capacity, sturdiness and handicap accessibility, providing comfortable seating on all sides. Add our dining chairs or benches to accommodate all your seating needs.


Wheelchair height trestle base dining and study tables are also available.